Explore the Jawai Leopard Safari With us.
Pack your Bag Now for Amazing Tour of Wildlife Safari !!!
Welcome To Jawai Leopard Safari
The wilderness of Jawai and the beauty of this area is understood to be the most captivating and logical reason behind the population of leopards in Jawai. The thicket Boswellia Serrata and the presence of water because of Jawai Dam itself is a great reason behind making this place charming with the presence of this printed shy cat wrapped in a golden base with black spotted jacket.

Among the most interesting and engaging things to do in Jawai, Jawai Jungle Safari tops the list being the most interesting and adventurous pick for every age group. We at Jawai Nature Stay not only provide the safari facility to our in-house guests only but also this best known part as speciality is also open for walk-ins.

Morning & Afternoon Safari- What to expect

For the sake of convenience and complete satisfaction of proper sighting experience, we have carefully crafted our Bera Leopard Safari schedule. We conduct this tour in the morning as well as in the afternoon/evening (timings differ depending upon season) shifts.

You can pick any or both of the options from Jawai Leopard Safari Timings as follows:

Morning Safari: The morning safari begins at around 5 am and it is considered the best one among the two as just before rising sun, Leopard set out for hunting leaving cubs behind. Not only sighting of leopards is the only motive during this safari batch, but also spotting amazing birds of Jawai is another hidden benefit. Avifauna become active one hour before sunrise and start their search for food.

Evening Safari: The scenic ambiance and feel of this place becomes much more exciting with the tint of evening sun on its hills. The evening safari is conducted around 4 pm (timings differ slightly in winters & summers). The best part about picking an evening Jawai Safari Booking is that capturing the panoramic beauty of Jawai from a cliff during sunset is an astonishingly beautiful experience.

Jawai Leopard Safari Online Booking

The online safari booking facility is available on our website with 24*7 assistance where after confirming the date of arrival and number of persons, we pre-book the complete safari package with a bare minimum token amount.

Our dedicated responsive staff from the front desk keep always ready to assist with safari related queries and assistance. Following very simple steps, you can book safari specifying details required to make a reservation on your name.

What to Expect
One vehicle of the safari can accommodate 4 individuals only Driver of safari vehicle are trained professionals An escorting safari guide can be arranged upon request Spot specific high-tea can be arranged on request
Wildlife Photography Tour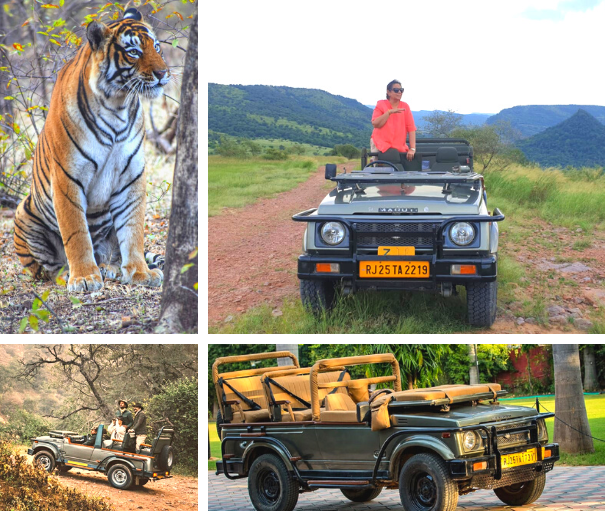 About Jawai:-
"Jawai has everything that is needed for making a rejuvenated vacation"

Quaint small village of Jawai is named after Jawai river which is now a prominent attraction for nature lovers. Mainly referred to as Jawai Dam, this village is located in Sumerpur Tehsil of the Pali district in Rajasthan. It is a uniquely mystifying place that stands as a testimony of harmony between humans, animals, and splendid nature. Engulfed by the mighty hills and granite rocks adds a unique charm to its beauty that surrounds the area stunningly in its own way. Being a home of many exotic fauna species like leopards, birds, and crocodiles, Jawai Wildlife Sanctuary is a great place to experience its rich wilderness beauty.

This serene place is a great attraction for everyone who loves to drown completely in the adorable natural beauty of Jawai. This place can be truly called a miracle of nature where the mingling of the leopard with the ordinary life of the village people is a point of attraction and is now the talk of the town. The memories of this amazing escape in the breathtaking surroundings get etched in the memories of our guests with a "fondness forevermark".
Thinks to do in Jawai:-
Jawai Bandh
Jawai River is a tributary of Luni, the dam is an exquisite place to capture the panoramic views of Jawai. Constructed during 1946, Jawai dam took 11 years to get completely constructed. Being the biggest dam in Western Rajasthan, it covers acres of land which offers a perfect sight of sunrise or sunset.

Enjoying crocodile sightings and bird watching from the dam while experiencing the wilderness of Jawai has more than what one is seeking in this ambient place. It is one of the eminent places of attraction in Jawai from where you can see the entire village along with the scenic backdrops of hills. The panoramic views it offers will let you immerse in the magnitude of Jawai.
Jawai Leopard Safari
Jawai Crocodile Reserve
Birding in Jawai
Tribal Tour in Jawai
Jawai Hills
Ranakpur Kumbhalgarh Excursion
There are no reviews yet. Be the first one to write one.