Explore the Jim Corbett National Park With us.
Pack your Bag Now for Amazing Tour of Wildlife Safari !!!
Welcome To Jim Corbett National Park
Jim Corbett National Park has been a premium tourist destination in the state of Uttarakhand. Located on the foothills of the Almora range of mountains, Jim Corbett is a tiger reserve that shelters the Royal Bengal Tigers, the one-of-its-kind big cat that people visit to see from distant parts of India and abroad. Due to its unique geographic location, the place remains open throughout the year and that is why tourists keep visiting here. However, eight months starting from November to June next year are the best months for making a fascinating trip.

At Corbett National Park, undertake all the responsibilities to help every visitor to get the right facilities to make their trip memorable for life. We assist them to find all necessary services that they look for during their stay in the forest area. We find them the right package for jungle safari and accommodation in their preferred area, including Dhikala, Durgadevi, Jhirna, Dhela, Bijrani, and Sitabani. We encourage our bona fide visitors to contact us at least 46 days before the date of their visit to the forest. Our team of professionals is committed to take care of all the requirements of the guests from India and abroad.
Wildlife Photography Tour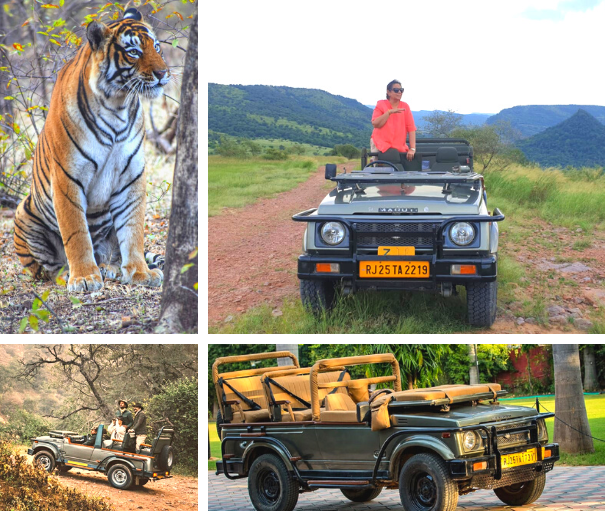 About Jim Corbett National Park
Get here details about Jim Corbett National Tour Packages, Hotels, Resorts, Customized Tour Packages, Jeep Safari, Elephant Safari, Rope Slithering, Bird watching, and River Rafting, etc. It's a Larger Tigers Tiger Reserve Project in Ramnagar in Uttarakhand.
Jim Corbett National Park is the popular wildlife park of India. Jim Corbett National Park comes under the project tiger reserve in India. Due to this, the park has gained popularity as Jim Corbett Tiger Reserve. It has a plethora of species of plants that people come to see and experience from all over the world.
Corbett national park became the wildlife tour point for wildlife lovers because of the increasing number of Tigers day by day. Corbett wildlife tour packages are filled with adventurous activities to give you the flavor of the jungle.
We are having variety of Corbett tour packages include Corbett with Dudhwa tour packages, Corbett with Sariska tour packages, and many more. With the best deals of Corbett hotels packages.
Corbett national park also provides the Best Hotels and Resorts in Corbett also for making the wildlife tour more special and more comfortable.
Introduction- Jim Corbett National Park
Corbett National Park is an early forest because Rudyard Kipling has kept it. Despite extensive tourism, Park maintains its environment. Humans must be scared of their strong sense of insignificance. More photos.
In 1936, India's first National Park was probably established in the best form, for the first time the Corbett National Park was limited in consultation with the great hunter and patron Jim Corbett. And this park is spread over 920.9 square kilometers at the height of 600 to 1100 meters in the foothills of the western Himalayas, in the districts of Nainital and Pauri Garhwal in Uttaranchal (the eastern parts of Uttar Pradesh). In its 64 years of informal life, its size has increased a lot and now it includes the Sonanadi Wildlife Sanctuary as part of the 1319 km reserve forest area.
Every day many tourists enjoy wildlife tourism activities like watching wild animals, birds, and their photography. This Park is divided into 5 parts so that tourism activities can be managed here. These tourism zones are famous for their beautiful flora and fauna, charms, and wildlife. These zones are Dhikala Zone, Canter Safari Zone, Bijrani Zone, and Jhirna Safari Zone. These Forest officials organized safari tours in all tourism zones in two shifts.
Dhikala zone: The Dhikala zone is the largest and beautiful zones in Corbett, Dhikala is famous for its large range of flora and fauna. This zone has excellent wildlife and natural beauty it is the ultimate place tonight to stay highly recommended the wildlife lovers. You can watch here wild animals like tigers, elephants, many species of deer, wild pigs and many more.
Bijrani zone: After Dhikala Bijrani is the most famous zone in the Corbett national park. It is a highly visited zone by the day safari tourists. Magnified with its eye-catching natural beauty, this zone is famous for its relaxed and peaceful atmosphere inside the forest. Here you can watch a huge range of wildlife animals and birds. You can enjoy here the big grassland, various water narrow rivers, sal forest, and thick sal forest. It's also 1 km far away from Ramnagar.
Jhirna Safari Zone: Its situated southern corner of Corbett Forest, This zone is one of the most visited zones by day tourists because its open for day tourists throughout the year. The famous attraction of this zone are wild beers, tigers, wild elephants, many species of deer and sambar, etc. along with this you can enjoy birds watching
Dhela zone: This zone opened in Dec 2014, and open a whole year like Jhirna Zone. This zone includes a large grassland, small water rivers various types of trees like sal, Sagun, Kusum, Samber, Haldu, Bahera, and Rohini. This zone is enriched with the flora and fauna. The main wildlife animals in this zone are the Royal Bengal tiger, many species of Deer, wild elephants, Nilgai, leopards, etc.
Durga Devi Zone: This Zone is situated in the northeast part of the Jim Corbett National Park and has a wide range of flora fauna species. This zone is known as a paradise for nature lovers because it's delightful with the natural environment's beauty. The many small bodies of Ramganga rivers and Mandal rivers flow in this region and increase the beauty of this zone.
Sitabani Forest zone: This zone is located at the Jim Corbett National Park outside area. This zone has many small rivers and dense forests and old temples. Here is an old Sitabani temple which is maintained by the Archaeological Survey of India (ASI). You will watch here a large number of those animals who feed plants like many species of deer, Nilgai, sambars, Nilgai elephants, and many species of birds.
There are no reviews yet. Be the first one to write one.