Explore the Ramgarh Vishdhari Tiger Reserve With us.
Pack your Bag Now for Amazing Tour of Wildlife Safari !!!
Welcome To

Ramgarh Vishdhari Tiger Reserve

Bundi's Ramgarh Vishdhari Sanctuary, adjacent to Ranthambore National Park, has now been given the status of the state's fourth Tiger Reserve by the state government. Ramgarh Vishdhari Sanctuary will now be called Ramgarh Vishdhari Tiger Reserve. Earlier Ranthambore, Sariska and Mukandra Hills Tiger Reserves are the reserves for tigers in Rajasthan.

After getting permission from the National Tiger Conservation Authority, on Monday 16 May 2022, on behalf of the state government, the Secretary of the Ministry of Forest and Environment has signed and stamped it. Its gazette notification has been issued. In such a situation, now there are four tiger reserves in the Rajasthan. Ramgarh Vishdhari Sanctuary has become the 52nd tiger reserve of the country and the fourth tiger reserve of the state.

Due to the increase in the population of tigers and the reduction of space in Ranthambore, now the mutual conflict of tigers will be curbed and the tigers will also get better habitat. With Ramgarh Vishdhari Sanctuary being a tiger reserve, there will be a seamless movement of tigers from Ranthambore to Mukundra.

Ramgarh Vishdhari Tiger Reserve has become the fourth tiger reserve of the state. With this, it has become the second largest tiger reserve of the state in terms of area. Its approval was issued by NTCA in July 2021. After this, its proposals were made and sent to the state government. This proposal was sent in January. Since then the forest department, wildlife lovers and Bundi residents were waiting for its notification, which ended on Monday. 
As mentioned earlier, there is no specific information available about the "Ramgarh Vishdhari Tiger Reserve" as of my knowledge cutoff in September 2021. However, if we assume it to be a tiger reserve in Bundi, Rajasthan, here are some general activities that you might consider while visiting a tiger reserve:
Tiger Safari: One of the main attractions of a tiger reserve is the opportunity to spot majestic tigers in their natural habitat. Take part in a tiger safari, either in an open jeep or on an elephant back, accompanied by experienced guides. Remember to follow the park rules and maintain a safe distance from the animals.

Wildlife Spotting: Apart from tigers, tiger reserves are home to a wide variety of wildlife. Keep an eye out for other animals such as leopards, deer, monkeys, birds, and reptiles. Safaris and nature walks can provide excellent opportunities for wildlife spotting and photography.

Birdwatching: Many tiger reserves are also known for their rich birdlife. Carry a pair of binoculars and explore the diverse avian species in the area. Look for colorful birds, both resident and migratory, and enjoy the serene surroundings.

Nature Walks: Explore the wilderness on foot by taking guided nature walks. These walks allow you to observe the flora and fauna up close, learn about the ecosystem, and appreciate the natural beauty of the reserve. Follow the instructions of your guide to ensure safety.

Conservation Education: Tiger reserves often have visitor centers or interpretation centers where you can learn about the conservation efforts, research, and initiatives undertaken to protect the wildlife and their habitat. Engage with the educational exhibits and presentations to deepen your understanding of the importance of tiger conservation.

Photography: Tiger reserves offer fantastic opportunities for wildlife photography. Capture stunning shots of the animals, birds, and scenic landscapes. Remember to respect the animals' space and follow ethical photography practices.

Local Culture and Heritage: Explore the cultural aspects of the region surrounding the tiger reserve. Visit nearby villages, interact with local communities, and learn about their traditions, crafts, and way of life. This can provide a holistic experience during your visit.
It's important to note that the specific activities and attractions in a tiger reserve can vary depending on the location and regulations of the reserve. To get the most accurate and up-to-date information, it is recommended to reach out to the local authorities, tourism offices, or the management of the specific tiger reserve you plan to visit.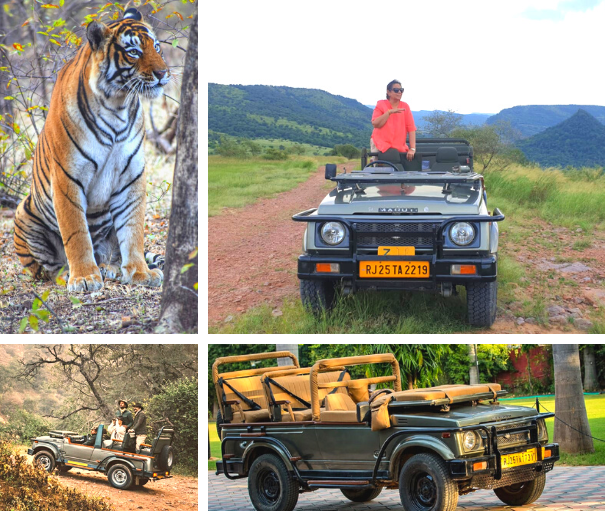 Patient and learned guides made it a wonderful experience!
Thanks to our guide, Ramdhan and Salman ,who expertly drove us around the forest area,we were able to enjoy our very first but definitely not the last Ranthambore Safari experience. Kudos to Hanuman and team for arranging this for us. Best wishes!!
Amazing experience
We had book 2 safari's before we left the Uk one pm one am , on both of these we were very disappointed we went to zone 7 & 8 & saw nothing but deer.
We then booked a canter for am visit to zone 3 & with 5 minutes we saw a tiger resting,he then got up & we followed him for an hour , truly amazing experience, he got so close to us .
We have some fantastic photos & videos .
One thing I will say , the guides & the drivers expect tips, which is fine , you expect that , but they always seem disappointed with what you give & we ask many people what was a good tip , so we thought we was being fair , but they don't make you feel like you are .
Anyway overall Amazing!!
Best Safari experience and hospitality from the team
Hanuman Sir really helped us through our safari bookings and transportation in Ranthambore at best rates possible.
Everyone who joined us on our journey were very humble, knowledgeable and tried their best to give us a seamless service. We spotted tigers too at our first visit to the park!
Great safari
I did 3 safaris over 2 days. On the first day after 2 safaris in zone 3 and 10, is not see any tiger. I almost gave up hope but decided to book another morning safari with this company at the last minute. I was not disappointed! I saw 3 tigers that morning in zone 4 only a few meters from the canter.
I know people say that it is mainly luck and patients when it comes to spotting a tiger, but I'd say it also comes down to your tour guide and the driver. The the guide and diver I had were excellent, always alert and in the look out. I know that because, I can compare with the other 2 safaris I had.
Great Safari
We had two safari one with jeep and one canter. In the morning, with jeep, we observed two tigers at the same time, which is really rare, and we are grateful to have seen them. The guide was really good and explained things very well. In addition, we could see other animals and birds. I highly recommend this webpage and their services.
Two tiger observation
We had two safari one with jeep (Zone 6) and one canter (Zone 3). In the morning, with jeep, we observed two tigers at the same time in Zone 3, which is really rare, and we are grateful to have seen them. We only saw crocodiles and monkeys in the afternoon, as well as some other birds and large mamalians, but no tigers. The guide was really good and explained things very well. In addition, we could see other animals and birds. I highly recommend this webpage and their services.
Top Service! Trustworthy
We contacted Ranaman from Switzerland and within minutes he was already WhatsApp calling us. He helped us in every way possible. We prewired the money for a "private" Jeep Safari and it all worked out great. We then on short notice wanted to add on an afternoon Safari and Ranaman did his best to accommodate us and gave us the trust that we would pay once we were back. Really helpful. Oh and we saw a beautiful Tiger!
Tiger Safari !
The Best Guide of Ranthambore enabled with skills to trace the Tiger Zone. I along with my family had a blissful day because of him… spotting 2 tigers in one go!
Best service and Ranthambore experience!
This being my first time in Ranthambore, I didn't know what to expect. I had the best time and amazing sightings in all our Safaris, thanks to Hanuman!
Overall hospitality was too good!
Amazing Safari !
Had a brilliant time at the Ranthambore Safari! Got some great sightings thanks to Mr. Hanuman ! He saw I was upset as I was not getting any sighting at the start of the Safari and he promised and made sure that I get the best sighting and he delivered ! Will definitely recommend to do the safaris under him and his team ! Thank you for a wonderful experience! Will definitely visit again soon !