Explore the WildLife Safari With us.
Pack your Bag Now for Amazing Tour of Wildlife Safari !!!
Welcome To wildlife-excursion Safari
India has so many beautiful landscapes to visit and among them comes the Ranthambore National Park, Pench National Park, Tadoba National Park, Bandhavgarh National Park, Jim Corbett National Park, Kailadevi Wildlife Sanctuary and Sariska Tiger Reserve destinations of India. Our prime objective is to give 100% Client Satisfaction by giving them those moments to enjoy for which they have come here. We are here to give them chance to cherish the beauty and colors of Wildlife, Birds, Tradition and Architecture in India. We plan your package accordingly so that your purpose of your visit becomes fruitful.
wildlife-excursion provides services like Wildlife Safari, Wildlife Photography, Forest Rest House Booking and Leopard Most Secretive Site & Adventure. You will experience the best Wildlife Safari experience with our Team. Wildlife Safari is always exciting and it make more exciting when it is your first experience. We will make all your moments memorable by covering maximum places where the availability of Animals and Sightseeing of Nature is the best.
Explore the Wilflife in India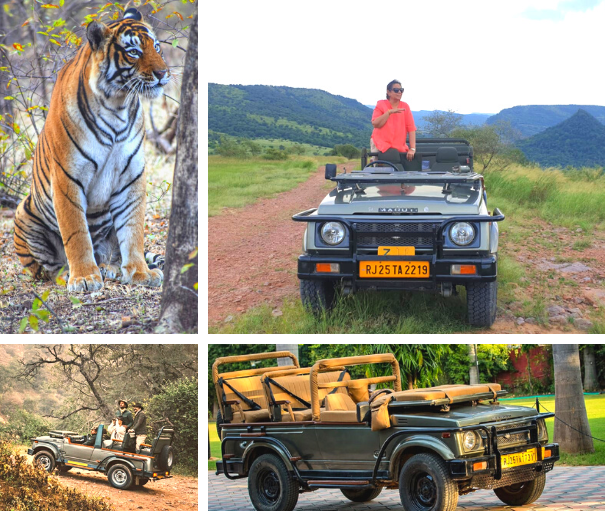 Most frequent questions and answers
There are 7 other countries besides India where the Tigers roam free. But India with a population of 2967 tigers has about three-fourth of world's wild tigers roaming in 50 tiger reserves. The sheer number of tigers in India increases the chances of sighting them substantially. Out of the 50 tiger reserves you have excellent chances of sighting tigers in atleast 15 of them.
The top 3 national parks for tiger safari in India are Corbett National Park, Bandhavgarh National Park and Ranthambore National Park.
To read a detailed review of the three, please read our blog on the Top 3 National Parks For Tiger Safari in India. These we mention keeping in mind the consistency of tiger sightings over last 10 years.
Yes, jeeps are safe for a tiger safari in India. The only point of understanding is that the jeep and its occupants must at all times maintain a safe distance from the wildlife around. If you hinder their space or peace, they might not like it and in turn leave the area.
Always remember that you are in their territory and it is only basic courtesy to not disturb them. Do not get off your safari vehicle to click photos, do not feed them, and do not ask the driver/guide/naturalist to speed up to chase wildlife around. These are basic rules and any form of disobedience is strictly punishable.
The temperature in Indian jungles varies throughout the day. It reaches a maximum of 45 degrees Celcius in hot summer months like April and May, while it drops to a pleasant 25 degrees Celcius in the evening. During the winter months of December to February, the temperature drops to a low of 0-5 degrees in the mornings while it reaches a comfortable 15-20 degrees in the day. Click here to read more on the same.
A jeep is an open roofed car which is the most agile form of tiger safari within an Indian national park. It has the capacity to seat a naturalist (also your driver), a guide (as provided by the forest department) and 06 guests while on safari. A canter on the other hand is an open roofed mini bus which has the seating capacity of a driver, guide and 16-20 guests.