Explore the Kailadevi Wildlife Sanctuary With us.
Pack your Bag Now for Amazing Tour of Wildlife Safari !!!
Welcome To Kailadevi Wildlife Sanctuary
Kaila Devi Sanctuary, surrounded by dense greenery, starts right after Kaila Devi Temple and continues both sides of the road before joining the Ranthambore National Park. It is home to a rich variety of flora & fauna. Kaila Devi Sanctuary is spread over an area of almost 676.40 square kilometers. The inner parts of the sanctuary are dotted with high rising hills & numerous deep gorges which descend a couple of hundred feet.
During the summers, the green dense forest here turns ash grey coloured, while a canopy of green covers it during monsoon. You can also observe several waterfalls during the monsoon.
Some of the wildlife which you can observe at Kaila Devi Sanctuary is Nilgai, Chinkaras, Leopards and Jackals. Some of the birds which you can spot at Kaila Devi Sanctuary are Kingfishers & Sandpipers.
Best Time to Visit Kaila Devi Sanctuary
September to March is the best time to visit Kaila Devi Sanctuary.
Wildlife Photography Tour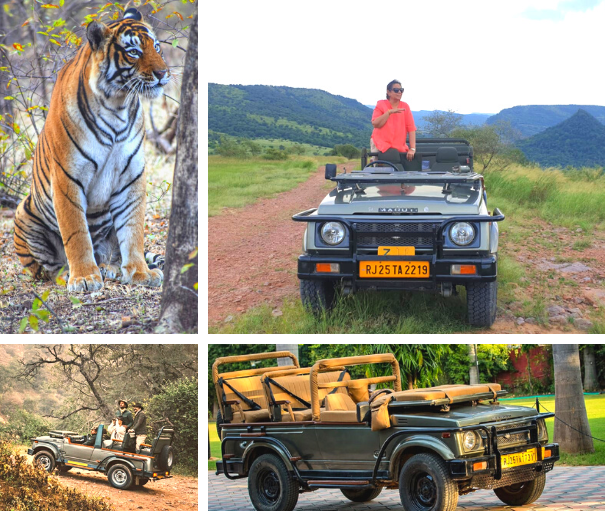 The Kailadevi Wildlife Sanctuary, named after the greatly revered temple dedicated to our family deity-the goddess Kailadevi is 21 km from the palace. Falling within the buffer zone of the Ranthambore National Park, it is privy to occassional tiger sightings, besides being home to an abundance of other species including sloth bears, multitudinous varieties of deer such as the nilgai, sambhar and cheetal, striped hyena and indian porcupine.
The undulating vastness, chequered with the green and brown hues of the local deciduous vegetation the dhok, euphorbia and ber is characterised by precipitous drops into spectacular river gorges and ravines known as khos.
The khos are rich in biodiversity, and were, in fact maintained by the former rulers as hunting reserves or shikaargahs.
Hunting today, has thankfully been replaced by our infinitely more exciting jeep safaris that let you experience this breathtaking natural loveliness at close quarters. Avail of our safari packages for a drive with quaint local hamlets and verdant hillocks on either side of your vehicle culminating with a meal amidst the luxuriant, almost primeval wilderness.
The ancient Kailadevi Temple, 21 km from Bhanwar Vilas is among the most revered temples in North India drawing almost sixty lakhs of pilgrims annually, especially around February, March-April and September-October when the vivid, exuberant Cattle fair, the Kailadevi Chaitra fair and the Navratra fair respectively take place.
There are no reviews yet. Be the first one to write one.