Explore the Sariska Tiger Reserve With us.
Pack your Bag Now for Amazing Tour of Wildlife Safari !!!
Welcome To Sariska Tiger Reserve
Sariska National Park, one of the most famous tiger reserves in Rajasthan, surrounded by the Aravalli Hills, stretches across more than 800 square kilometers. The best way of exploring the rich wildlife of Sariska Tiger Reserve is of course, with a jeep safari. Spotting the Royal Bengal Tiger in its natural habitat during your wildlife safari is a thrilling experience which you will cherish for a long time.
History of Sariska National Park
It was once a hunting ground of the Maharaja of Alwar before being proclaimed a natural reserve in 1955 & national park in 1979.
Flora & Fauna in Sariska National Park
Sariska Tiger Reserve is enveloped by the hills & valleys of Aravalli Range & lush greenery. It possesses a rocky landscape, scrub thorn arid forests, grasses, hilly cliffs & semi deciduous wood. Several trees like Dhok, Tendu & Khair are also found in its forests.
The main tourist attraction of the Sariska Tiger Reserve is the Royal Bengal Tiger. How fascinating it is to watch this majestic animal with black stripes slashed across its perfect yellow coat. Apart from the tiger, other wild animals which you can spot during a wildlife safari are Chital, Leopard, Sambhar, Nilgai, Four Horned Antelope, Rhesus Macaque, Langur & Wild Boar.
Another famous tourist spot inside the Sariska National Park is Siliserh Lake, which is home to a large number of crocodiles. Bird lovers too will enjoy a trip to the park, as it is home to numerous bird species like Peafowl, Sand Grouse, Golden Backed Woodpeckers, Crested Serpent Eagles & Harbours Quail.
Wildlife Photography Tour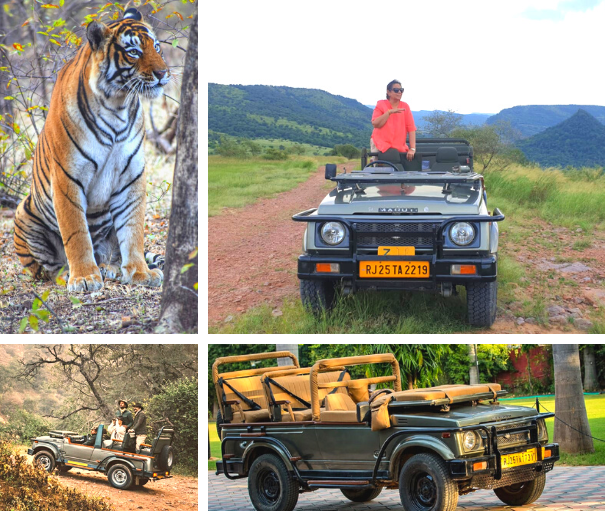 Tourist Attraction in Sariska
Important tourist attraction in Sariska is Sariska National Park. The main fauna in the Sariska National Park are the Panther, Tiger, Sambhar, Chinkara, Leopard, Nilgai, Civet, Hyena, Jungle Cat, Four-Horned Antelope and Porcupine. Sariska has several historical sites also besides national park. Ruins of medieval temples of the Hindu God Shiva are situated inside the park. Ruins of the temple Garh-Rajor was constructed in the 10th century which are sprinkled all over the jungle. A 17th century castle on a sharp hilltop at Kanakwari provides a very beautiful view of Sariska. Mughal emperor Aurangzeb jailed his brother, Dara Shikoh, inside the fort. There is also a palace which was founded by the erstwhile Maharajas of Alwar that has now been converted into a hotel.

Sariska Informaton
Sariska is one of the major travel destination of India and famous for its national park or tiger reserve. Situated in north-west of Tiger, Sariska Travel Guide, Sariska Tourism Rajasthan, Sariska as wildlife attractions of Rajasthan Tourism plays an important role in the enhancement of tourism in Rajasthan. At the distance of 35 km away from Alwar, in the backdrop of Aravalli Hills, Sariska is an amazingly quiet and peaceful travel destination. With strong historical background, Sariska is predominantly famous for Sariska Wildlife Sanctuary and tiger reserve. A large gathering of tourists come here from far around to visit Sariska to see Sariska Wildlife Sanctuary. Sariska offers an exciting wildlife experience.

Along the age of Sariska National Park, there is a breathtaking Siliserh Lake and fascinating hunting lodge overlooking it. This hunting lodge is spectacular place for travelers to stay. Besides wildlife Sariska has also some forts & palaces and temples which are also worth visiting. Sariska Palace – built by the ruler of Alwar, Kanakwari Fort and ancient temple of Lord Shiva are worth visiting. We, at Rajasthan Tour and Travels, provide comprehensive information about Sariska and Sariska National Park. We also provide Sariska City Guide package to visit Sariska and Sariska Tiger Reserve. Just prepare yourself and embark on Sariska tour. Sariska will never fail to captivate you with its charm and fascination.

Some Major Attractions in Sariska
The fame of Sariska is mainly due to exhilarating Sariska Tiger Reserve or Sariska National Park. Well nestled in Arravali hills and getting an area of 800 sq km, Sariska wildlife sanctuary is one of the most popular tiger reserves in India. Sariska was once the royal hunting preserve of the Maharaja of Alwar. In 1955, Sariska was affirmed as a wildlife sanctuary and in 1979 it was declared as a National Park or Tiger Reserve.
Apart from tigers and leopards Sariska National Park is also home to other animals and birds such as; Panther, Hyena, Leopard, Jungle cat, Gaur, Jackal, fox, Four-horned antelope, and many birds like Horned owl, Crested serpent eagle, peafowl, golden-backed woodpecker etc. Sariska wildlife tours with Rajasthan Tour & Travels will surely be a mesmerizing experience.

Sariska Palace : Situated at just outside the gate of Sariska National Park, is another major attractions of Sariska Tour. This fort was built by the rulers of Alwar. Now Sariska Palace has been turned into a fiver star hotel.

Kanakwari Fort : Kanakwari Fort is also a worth visiting attraction of Sariska. This fort was built by Aurangzeb. This is the fort where once Aurangzeb caged his brother, Dara Shikoh.
There are no reviews yet. Be the first one to write one.